Cape May Fishing Report July 18, 2009

I went down to Cape May on Saturday morning, hoping that the weather report would be wrong and I might be able to get out and do some trolling. Unfortunately the wind was blowing a little too strong. I really didn't do much all day. In the afternoon I went over and sat outside at the Schooner bar at the Lobster House. I sat there waiting for the boats to come in for the South Jersey Tuna Tournament. Around 5:00 I saw Andy and crew pass by, and I yelled out to them to see if the caught anything. Andy replied they had one and guessed it to be about 150 pounds. I popped of my trusty bar stool and ran over to South Jersey to watch them weigh in. They did have a big Bluefin that weighed in at 152 lbs. On Friday they had weighed one in that was 142 lbs. Even though they had some big fish they weren't in the money.
Here's a photo of the leader board after everyone weighed in.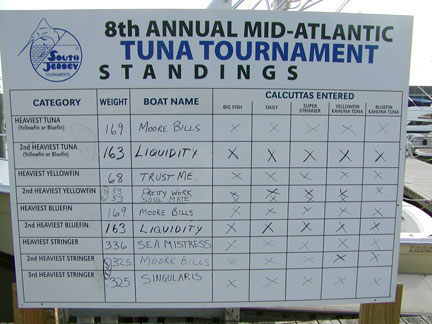 Meanwhile back at the Bree Zee Lee, I noticed Capt. Dave's boat the Tiramisu was up on the sling. I saw Rich working on the Tiramisu on Sunday morning. I asked him what the problem was; he told me it was a simple case of catastrophic engine failure!!!!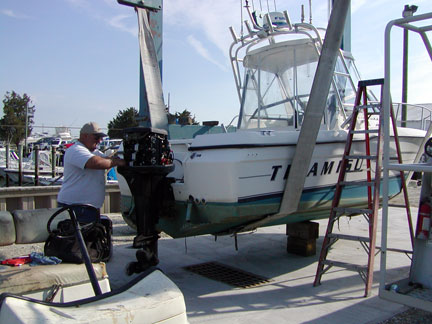 No not really he was getting ready to change to the impeller. I think the boat is already back in the water; at least it wasn't on the lift when I left for home this morning.
Hopefully next weekend I will be entering the Bree Zee Lee Fluke tournament. I think Ross the guy a few slips up from me, might be the guy to beat. I saw him Saturday afternoon, after he had returned from the Old Grounds again. His cooler was pretty full and he showed me the fish, one was over six pounds.