First Fishing Trip for "Offshore Bites"

May 6th was a day of firsts. It was the first day of summer flounder season, the first time I took the boat in/out of the slip on my own, and I landed my first fish of the year. Jim and I got to Cape May around 7:30 AM. By the time we got sandwiches, bait and fueled up the boat, it was closer to 9:00 when we left the marina. We bumped into Capt Dave and Chuck from the Tiramisu at the Wawa.
Our fishing destination for the day was the Miah Maul, which is about 20 miles up the bay. We screwed around with the trim tabs a little on the way out, but they didn't seem to be doing much. Overall the boat handled well, and it was an extremely calm day for early May. We got the fishing grounds around 10:00.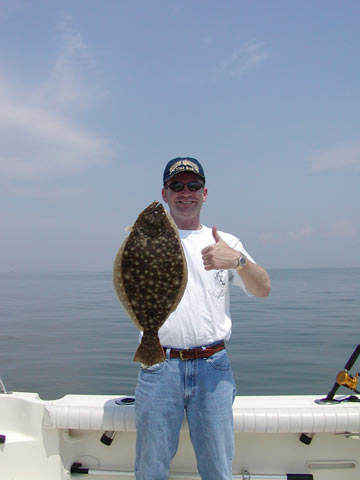 After having our lines in the water for just five minutes, they were very wet. You thought I was going to say we hooked up, no such luck. We called Capt. Dave on the radio and he mentioned they already had two fluke, and he informed us that he was by some of the head boats. We hung around where we started but there wasn't much action, except for Jim untangling his line every 10 minutes.
We moved up by the Tiramisu and drifted along with them. Finally at about 11:20 I felt the familiar tug on the line. I was thinking if this is a fluke it might be a good size, but was expecting a skate. As I got the fish to the surface we netted it and got it on board. It was about 20 inches. It ended up being the only fluke we caught that day, later on I picked up a few skates. When we were getting ready to head in I decided to real in Jim's line, and then I informed him there was a fish on his line. He reeled it in, but it ended up being another skate.
I think Capt. Dave and Chuck said they caught 9 or 11 fluke, but only 2 were keepers. Their biggest was about 20 inches also. They also had there share of skates and oyster crackers.
Getting the boat in the slip didn't go too badly, not a perfect shot by any means. We cleaned up the boat and the fish. Then we headed over to the Tiki Bar at the Harbor view for some dinner, our bartender was Gail the snail. No she wasn't slow but that's what she told us her name was when we asked. She liked my Square Grouper hat and mentioned that she had been there quite a few times, it's a Tiki Bar in Jupiter, FL.
We ended up spending the night in Cape May, at the Summer Station. If I thought we were going to stay I would have brought my sleeping bag, and would have slept on the boat. Later on we walked over to the Rusty Nail and had a few drinks while listening to a blues band. I think there name was Blue Bones.