March and April 2007 – New Electronics, New Slip, New Dock
Well the long not really all that cold winter is finally over. I picked up the boat from storage at Highway Marine in late March. I had a lot of projects to complete this spring before putting her back in the slip.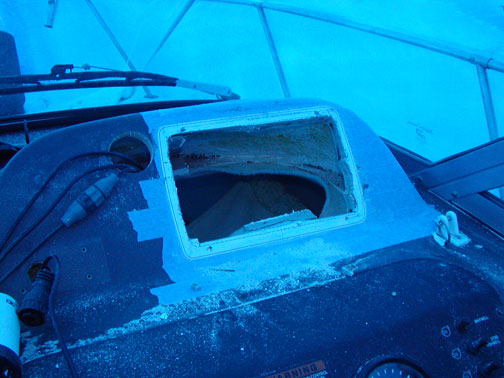 I had purchased a bunch of new electronics at the Atlantic City boat show, and needed to install them. I got a new multi-function head unit, GPS chart plotter, XM weather that overlays the chart plotter, new sounder and transducer, and a GMR 18 radar dish. I had to chop away at the dash to put in the new head unit. It's a snug fit. I also had to take the steering wheel and dash off in order to connect some of the wires. I wasn't sure the additional wires for the XM weather antenna, GPS antenna, and Radar dish would fit through the pipe in the radar arch, but they did. Again it was a snug fit. The radar dish is not mounted yet, but I hope to do that next weekend. The guys at Heritage Towers are making a mount so the radar will fit on the arch. Oh and I almost forgot that I installed the new TurdMaster 2000, yes a new head. (Toilet for you land lovers)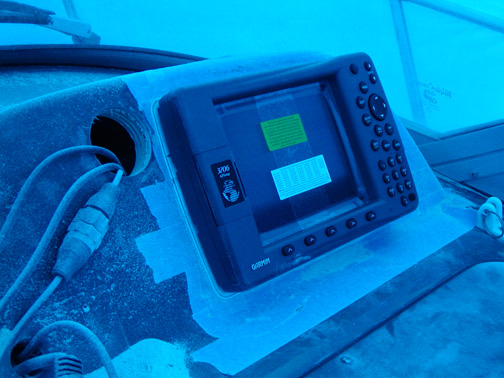 We followed Capt. Randy with the "Just One More" down to Cape May on May 5th. When we got to the Bree Zee Lee Marina I was pleasantly surprised that the guys were able to get me on to the same dock as Capt. Randy. In fact his boat is right behind mine; our boats sit stern to stern about 5 feet apart. This should make socializing a little easier this year, no more driving to the other side of the marina.
After we got the boats loosely tied down in the slips we headed over to the Harbor View for some lunch. It was good to see the Tiki Bar on the deck open, and to see Gale the Snail behind the bar. After lunch we got the boats settled in better with all the new lines. Capt. Dave and Chuck came in while we were fixing the lines; their fishing report was not encouraging they didn't catch a thing.