Sept 30 2006, Old Grounds = Big Fluke
On Saturday morning we left early for Cape May. We got the boat fueled up and out of the marina by 9:15 AM. I was listening to the weather radio on the way down and it sounded like the winds would be favorable for heading to the Old Grounds. It's about a 20 mile run from the inlet. The ride out was smooth with a very light north wind. The water temperature was still between 68 and 70 degrees.
When we arrived we started picking up some decent sized Sea Bass, and decided to keep a few this time. Jim finally picked up a giant fluke 27 plus inches. It actually took him a while to bring it up, and then screams "Get the Net". I was in the process of pulling a Sea Bass of my line. I missed the Fluke with the net the first time, but got it on the second scoop.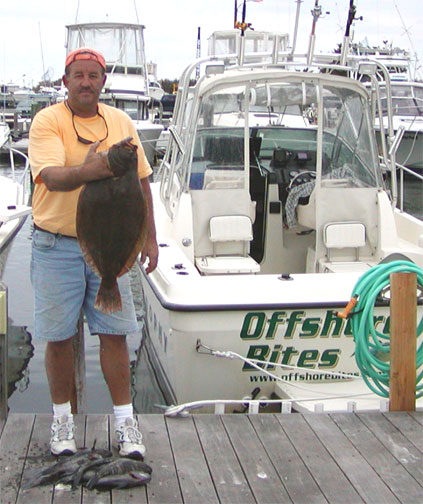 We continued to pick up some more Sea Bass for the rest of the day; we were throwing them back after a while. We called it a day around 2:00, and headed back in. The winds never really shifted to the south like they advertised, so the ride home was a little damp, but not too bad.
We got everything cleaned up, stopped in the Harbor View for a drink, and then to the Rio Station for dinner. After that we all went to the Rusty Nail for probably the last time. They are closing it down, and tearing it down. But a little piece of the Nail we'll always be with us.