Aug 5-6 2006, Fluke at the Cape May Reef and Old Grounds

Offshore Bites left the slip at 6:10 AM on Saturday morning. We were loaded up for trolling and then hitting the Cape May reef on the way back in. On the way out to the East Lump the seas were getting a little sloppy and we had to slow down to about 16 knots. When we got there the waves were a little higher then the 2-3 foot range NOAA was advertising. We did manage to troll around a little; it wasn't too bad when the wind was at the stern. We decided to troll our way back to the Cape May Reef. We never had a bite on the troll. The water temperature out by the East Lump was around 78 degrees, and about 75 at the Cape May Reef.
We headed b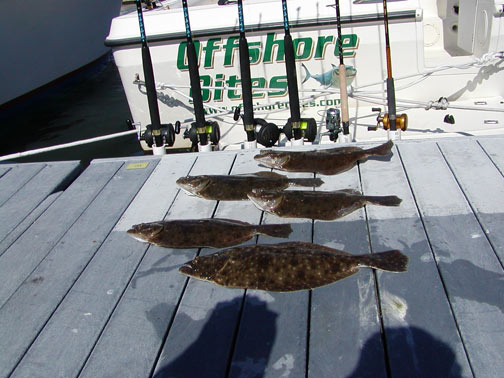 ack to the same spot on the reef that we fished last week. It turned out to be a good choice. We ended up with 5 keeper fluke, plus a bunch of shorts. Jim caught 4 of the keepers, 3 of which were on one drift.
Capt Dave M. and Chuck headed to the Old Grounds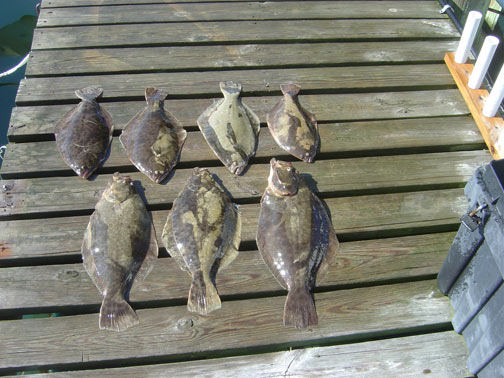 and also had a good day. They came back with 7 keepers. Three of those were over 20 inches. Fluke need to be over 16 ½ inches to be a keeper in NJ, at least in 2006.
On Sunday we headed back out to the Cape May Reef. We were out of the marina by 7:10 AM. We spent of few hours back at the Cape May Reef, and only caught a bunch of Sea Monkeys (sea robins) and a few shorts. Then we headed south a little to Mary Lou's Slough where the action was non-stop, with out the non part. There was nothing happening at Mary Lou's.
After that we met up with "Just One More" and "Joint Venture" over by Higbee's beach, just off the concrete ship. I took a few photos there and will post them in the photo gallery section, plus I posted some pictures from the Buffett concert in the photo gallery section also.