July 15-16 2006, No Fluke for You
We planned to leave the slip early on Saturday morning, but the fog was pretty thick and took hours to burn off. We finally left the slip around 9:30 but didn't get out to the first stop, the Sixty Foot Slough, until after 11:00 due to the thick fog in the bay. We had no action at the Slough, and then moved up to Buoy 16. Still no action here, so we moved up to Buoy 19 where we found a few party boats, but still no action. So we headed back to the slip, rinsed the boat down, showered up, and then went to Harpoon Henry's for dinner. No action at the Harpoon Henry's either, but we did score some free swag from Dos Equis beer girls, and were entertained by Capt. Larry.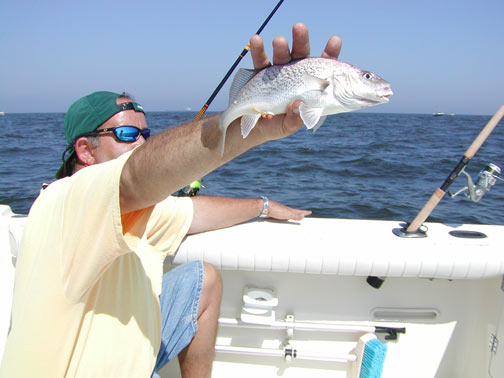 Sunday started off just like Saturday but the fog burnt off by 7:30 AM. So we headed back out to try another spot. We went back out to Flounder Alley, which I called Skate Alley in a previous post. The new name is Croaker Alley. Jim caught a few croakers and I only managed one, and I snagged a crab pot. Jim also had a skate and 1 short fluke. We only fished until about noon, and then headed back in.