Flatties Found at the Old Grounds.

Sat. June 17th, 2006 - Unfortunately we were fishing at the Cape May reef. The ever consistent producers Capt Dave M. and Chuck went to the old grounds and caught these rare albino fluke, not just one but five of them. Plus they lost a few at the boat. I'm not sure if the ones they lost at the boat were albino fluke.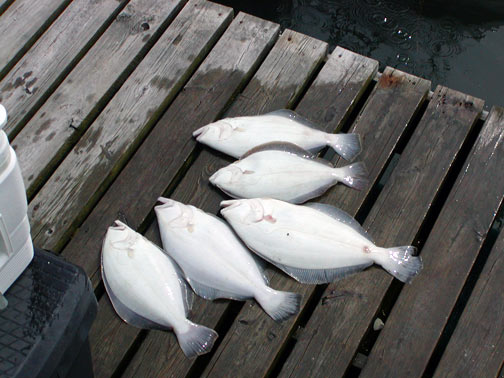 I had the steering wheel and dash pulled off on my boat, so we hopped onboard the "Just One More" with Capt. Randy and Ruth. We left the marina around 9:00 AM and headed for the Cape May reef. We caught about 8-10 throw back fluke, a few sea bass, sea robins, skates, and snapper blues. The drift was pretty slow for most of the day; it finally kicked in during the afternoon. For those of you that think those are actually albino fluke, you really need to go out fishing; fluke are white on the bottom.
After fishing we got all the rest of the wiring for the lights on "Offshore Bites" hooked up. We also discovered "the hard way" that the vent for the marine head holding tank was clogged. We fixed that Sunday morning. So all the wiring is done, for this year, and the new lights work, the old lights still work, and the radios work.