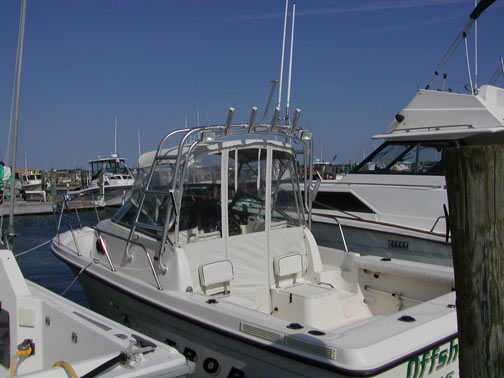 In today's episode of this old boat…
I headed down to the Bree Zee Lee on Saturday morning. I was there by 9:30 AM. I took a quick look at the new radar arch ( I like to call it my new role cage), and then headed over to Heritage Towers to pay the balance due and pick up some lights. Then I made a quick visit to The Depot campgrounds, and back to the marina.
I figured if I got the stereo hooked up first that might be nice. Trying to figure out how the new speakers were mounted on the radar arch was a bit of a challenge. Randy finally got the screen to pop off which exposed another 6 screws that was holding them on. Of course there were no pull throughs like I had asked for. So the drilling and snaking began. We got the speaker wires run, and I mounted the antenna ratchet mounts, but not the antennas.
I met up with Randy and Ruth and we ate at the Rusty Nail. New menu, not as much choice as there used to be. After that we headed back to the campgrounds for cocktails, OK it was beers from a can, cocktails sounds much more refined. After a while I headed back to the marina, and slept on the boat for the first time. This wasn't too bad, and didn't feel sea sick and it was relaxing, I just need to clean out more of the clutter in the cabin.
The next morning Jim showed up pretty early and we started connecting the stereo wires. Then we discovered one of the speaker wires was pinched off, so we had to re-do a lot of the steps from the day before. But the stereo is installed and working now. We also ran the AM/FM and VHF antenna wires.
We also mounted the spreader lights on the radar arch, and ran the wires for one of the lights. Much thanks to Randy and Ruth, Jim for helping with the arch, and Andy who loaned us his drill and bits when mine ran out of juice.
As for the fishing Capt. Dave M, Chuck and Buddy went out Saturday afternoon. I think they went up in the bay behind Wildwood, because it was blowing too hard to go anywhere else. We asked how they did when they sailed by, I think Chuck said they caught five, but only two keepers. I assume they were fluke.
Next weekend is Memorial Day, I plan to fish!