July 29, 2006 – First Dolphin caught on Offshore Bites
Offshore Bites left the slip at around 6:30 AM and headed for the East Lump. As we approached I began to set up the new rods with snap swivels, and adjust the drag setting. At that point I was starting to feel a little sick, not good. I finally got all the lines in the water and we trolled around the East Lump for a short while. The water temperature at the lump was 76 degrees, with a wind from the west. At one point I broke out in a sweat and thought I was going to loss my cookies, but luckily that feeling passed.
We decided to continue trolling towards the Misty Blue, which is a wreck about 6 miles east of the East Lump. We were trolling between 5-6 knots. About 2-3 miles off the lump, while I was driving I saw a fish jump, and headed the boat in that direction. A few minutes later I heard the clicker go off, and hit the MOB button immediately. Jim started reeling in his first Dolphin (Mahi Mahi). It hit on the short line, on the green jet head. I continued to troll around the spot but to no avail. We then set course back for the Misty Blue and had another hit on the Red and White Cedar plug,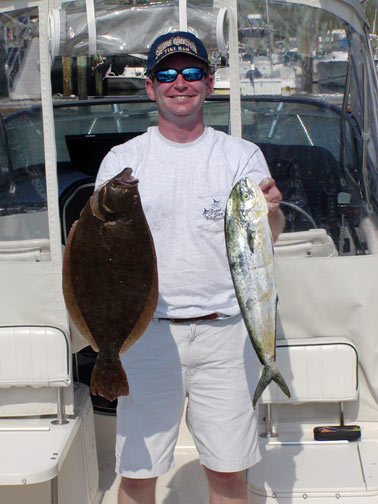 but not a hook-up. We made our way to the Misty Blue, and marked a ton of fish on the fish finder but couldn't raise anything. We trolled all the way back to the East Lump and didn't pick up anything else.
I'd like to make it perfectly clear that I didn't catch the dolphin, Jim did. He was too delusional at the end of the day to pose for a photograph.
One the way back to the reef we saw a pod of rays, there must have been 30-40 rays swimming just beneath the surface. As we approached them at 24 knots we thought it was just a weed line, but were surprised to see all these rays. Unfortunately we didn't take a photo, but next time we will.
We then stopped at the southern end of the Cape May reef on the way back in. The water temperature at the reef was 70 degrees. We immediately started picking up short flukes, most off them around 14 inches. Then I finally picked up a 23" plus, that weighed in at 4.89 lbs. The big one was caught using a green tap dancer, and hit on the trailing hook. Unfortunately we didn't enter the Bree Zee Lee Fluke tournament; I could have been a contender, not first place but a contender.
Capt Dave M. headed out for a Tuna trip at 3:30 AM on Sunday, and we hope to have a good report from him shortly.