Aug 26 2006, Strong Winds
On Saturday we took Offshore Bites out of the slip for the first time in a few weeks. We left the slip at around 6:40 AM. We decided to see if we could make it out to the Cape May Reef. The wind was coming pretty much from the East, and we were trying to head east. I finally gave up on that plan about half way out to the reef. It took us 40 minutes to get ½ way, once I turned the boat around it only took us about 10 minutes to get back to the inlet.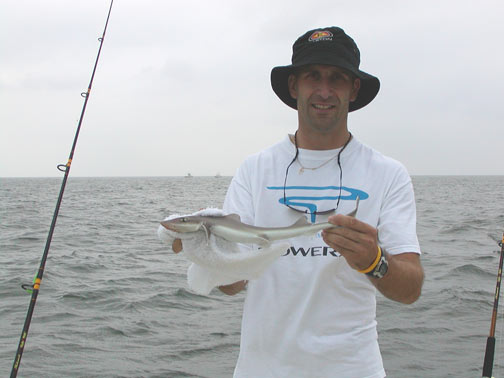 We decided to try the bay, so we passed through the canal and headed for the Sixty Foot Slough. We picked up 2 Croakers there. The water temperature in the bay was about 74 degrees. The wind was still picking up so we decided to move in closer to shore. We ended up just off shore over by the light house. There were a few party boats there. All we picked up there was about 8 little Sand Sharks. "Just One More" made it out and was fairly close by; they managed to catch one keeper fluke, plus a few shorts and skates. We called it a day by noon and headed back to the slip. I figured getting the boat back in the slip would be ugly with all the wind, but we got it in.
Have you sent in the form letter from the FISHERMAN to your member of congress? If you hope to fish for Summer Flounder/Fluke it would be in your best interest, or are you to lazy to mail it in.