June 2, 2007 – Finally Got Out Fishing
I headed down to Cape May on Friday evening because my friends band "Xclusive" was playing at Carney's. I stuck around for the first set, and spoke to Dave briefly in between sets. I left some time during the second set.
I slept on the boat and woke up at about 5:30 AM. I went up to the car and Jim's truck was parked there, and he was sleeping in the truck. I woke him up and we headed to Wawa for some coffee, and sandwiches. Then we stopped by Jim's Bait & Tackle. As we pulled back into the marina we saw Chuck & Dave pulling out of the slip. We got out of the slip by about 7:20 AM.
We met up with Dave and Chuck up by buoy 19 in the bay. As we pulled along side them Dave gave us the big thumbs down and said they had nothing. Then Chuck had a bite but he lost it. We moved closer to the buoy and started our drift, less then 10 minutes into the drift I picked up a 19 inch keeper. We continued to reset drifts by buoy 19 and caught a total of 6 fluke, with 4 of them being keepers 1-18 inch, 2-19 inch, and 1-21 inch. Dave and Chuck moved a little east of us and ended up with 23 caught, but only 3 keepers. All the fish caught on Offshore Bites were on my line, which had a green squid, a minnie, and Berkley Gulp Squid Flavored Strip Bait. We h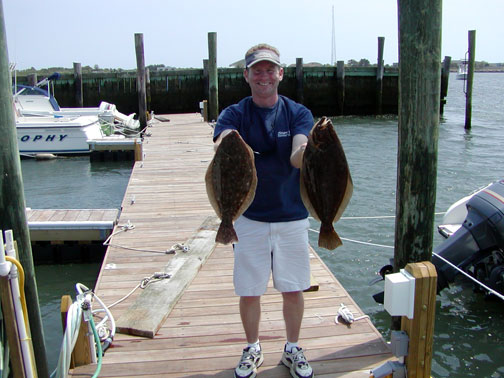 ad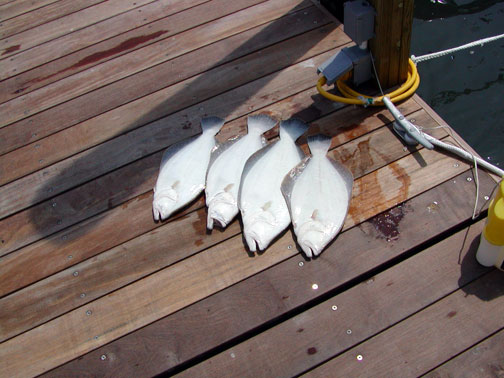 a mixture of stuff out there but that was the only that produced.
The wind started to pick up around 1:00 PM so we headed back in. I'm glad we did because it really got howling later in the afternoon.