Cape May Fishing Report Oct 29-30, 2009
Angler: Capt Chris
Captain: Capt Chris
Mate: Capt Chris
Boat Name: Offshore Bites
Fish: 34 Inch Striped Bass, 14 lbs 12 oz
Location: Cape May Rips
Date Caught: Oct 30 2009
Bait: Eel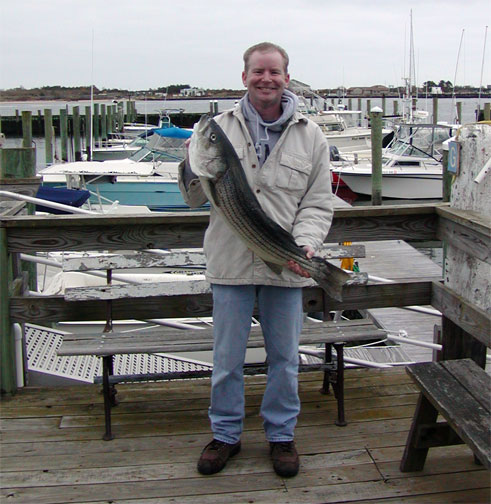 Offshore Bites made one last trip for the season, after sitting in the slip for the last 2 and ½ months. I took Thursday and Friday off to try some Fall Striper fishing. Thursday the weather was forecast to be a little rough so I went out on the Miss Chris head boat, for an 8 hour trip. There were about 15 people on board. We only caught 4 fish during the entire trip, but they were all nice sized Striped Bass. I didn't happen to be one of the lucky ones to catch one that day.
The weather on Friday was better so I went out in my own boat, on my own. High tide was at around 6:00 AM, so I got out early to fish the outgoing tide. I went back to the Cape Rips, and stuck pretty close to the beach. The bass like to hide out on the other side of the sand bars that cause the rips so they can ambush prey. It's fairly easy to know where the rips are because the waves get bigger there. As I would approach the rougher water I would turn the boat so the bow would head into it, as opposed to breaking on the side. As I was turning the boat on one of the rips I looked at the back to make sure my lines were straight; one of the rods and nice bend in it. I jumped back grabbed the rod and started reeling. The fish went under the boat but I was able to bring it in. Getting it in the net was a challenge, since I was on my own. After about the fifth try I got the fish in the net. I was pumped.
I measured the fish and it was 34 inches, they need to be 28 to be a keeper, so in the box it went.
I stuck with the same approach for the rest of the day, but didn't have any more action. I headed back to the slip at around noon, since slack tide was approaching.
I cleaned the boat up and then Capt Dave helped me get it on the trailer. The boat is now in the driveway.