May 3, 2008 – Back in at the Bree Zee Lee

The boats are out of storage and in there rightful positions at the old Bree Zee Lee Yacht Club. I actually picked Offshore Bites up about a month ago, and took it home to get it ready for the season. The boat didn't need a lot of work, mostly just bottom painting it and waxing it. Of course the Exhaust Bellows popped off again, we tried several times to get in on but it wouldn't stay on. I ended up paying the guys at RJ Marine Service located at the marina to get it back on. The guys at RJ Marine Service were nice enough to pick up my boat from the canvas shop and tow it over to their shop, saving me a trip down to Cape May just to move the boat about a mile.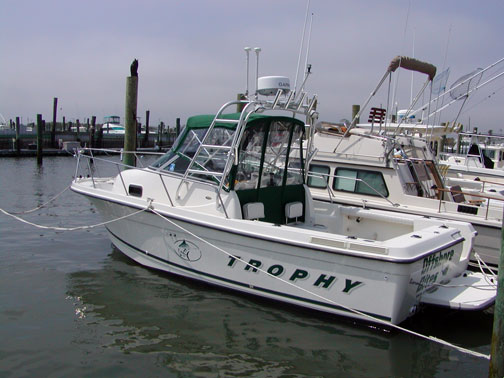 Over the winter I had dropped the old Bimini Top and enclosure off at Nor'easter Marine Canvas down in Cape May. Clint the owner told me he could start on the top, but needed the boat on site to work on the enclosure. I got the boat to him around mid-April and he finished the job in a week. The new top is green. So far I'd say I like the job, the seams and zippers line up nicely. He also added zippers to the front windshield so now we don't have to pop out the entire window to let air in.
From the reports I heard the fishing hasn't been great lately. When the guy in the bait shop tells you there's not much out there, you know it can't be good. Capt. Dave and Chuck went out for a little while in the back bay on Saturday, and caught a small bluefish and a flounder. Flounder season hasn't started yet.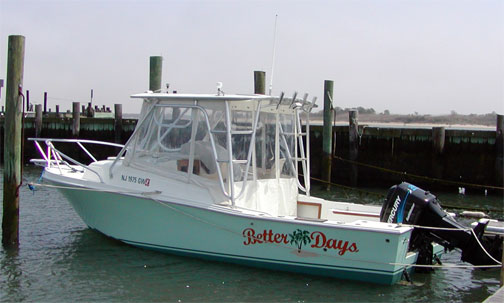 Lets all welcome out new Dock Neighbor Capt Rob, and his boat "Better Days". Capt Rob is from the same hometown, and was one of the winners of the Mid-Atlantic 500K last year.
Here is a late breaking "Man on the Docks" fishing report from Capt. Dave. It looks like Chuck is back in the swing of things after a difficult off season. We ended the regular season last year by toasting the end of the season at the Harbor View Tiki Bar. From there things quickly eroded for Chuck. Here's of photograph of Chuck and a striper he caught 2 weeks ago.