Aug 18-19 2007 – The Reef turns on

Saturday the 18th we had a strong wind from the north so we didn't make it out fishing. That was expected based on the forecast. I ended up putting some snaps on my springer lines, fixing the bulb on the spreader light, and verifying the bilge pump was working. Based on the forecast Sunday sounded like it would be a good day with low winds, and I hoped to go trolling for tuna. Of course the winds kicked up again and it looked like rain was moving in on Sunday morning, so the trolling yet again was put on hold.

Joe came down Saturday evening, with the thought that we would be leaving early to go trolling. We had a few beers and sushi over at the Harbor View before calling it a night. Got up at 4:00 AM and the flag at the marina was moving pretty good, and as I said it looked like rain was moving in, so we decided to go Fluke fishing at the Cape May reef. The reef is only 8-10 miles from the marina. We were out of the slip by 6:00 AM and one of the first boats at the reef. We fished until about noon.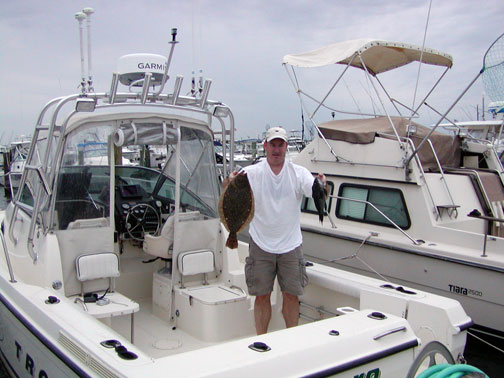 We ended up with 5 keepers and I would say 15-20 shorts. Capt. Dave and Chuck were out there as well and had 2 keepers. We all lost a lot of rigs in the rocks and rubble. There were a ton of boats out there. The water temperature was about 75 degrees and we had a good drift going mostly from south to north. I wouldn't say any particular rig was working best, because none of them were lasting that long.

The wind kicked up as we were getting ready to come in, so the ride in was a little choppy. It also rained as we were cleaning the fish and boat. Overall it was a good day. Joe had 3 keepers and I had 2 keepers.