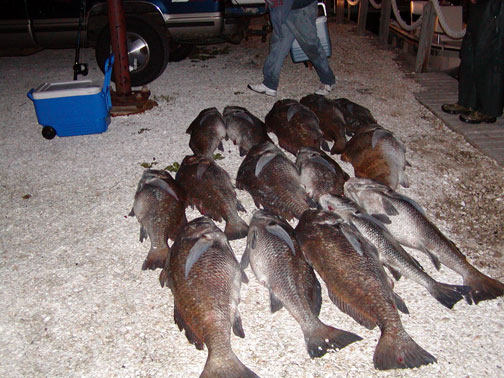 Cape May Fishing Report June 7, 2008

Capt. Dave and Chuck took there first trip of the year to the Old Grounds, while Jim and I headed up the bay to Buoy 19 and Miah Maul Light. It was pretty foggy early in the morning. Capt. Dave was on his way before 7:00 AM, while we waited for some of the fog to burn off and left the slip around 8:20 AM. The weather was great in the bay and we had a good drift for most of the day. Unfortunately we only caught 1 short fluke around 17 inches. The water temperature in the bay was in the 68-69 degree range.
Capt Dave and Chuck ended up with 2 keepers out at the Old Grounds, with only one short and a bunch of sea bass. Jim and I fished until about 2:20 and were back in the slip by 3:30.
The guys with the Parker a few slips up from me went out in the evening for Drum Fishing and killed them. They had 15 drum layed out in the parking lot when we came back from CJ's restaurant bar. They said they have been doing great with the Drum fish for the last few weeks.
The big improvement at the marina, or should I say Yacht Basin, this week is a new sign.