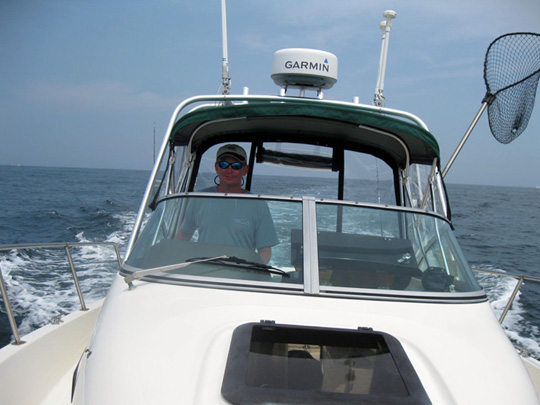 Cape May Fishing Report July 16-17, 2010.

I headed down to Cape May on Thursday evening so I could get out fishing early on Friday. I woke up at 5:30 AM, popped my head out of the cabin of the boat and found there was a thick fog over the harbor. I waited until 9:30 AM for the fog to burn off. My plan was to head to the Cape May reef. As the fog burned off a pretty strong South West wind picked up. I headed out of the inlet and decided I probably wasn't going to be able to make it the reef. I did one drift by the yellow cans in front of the Coast Guard station. Then I decided to head back in through the canal over to the Delaware Bay.

The bay was pretty calm compared to the ocean, but the strong wind was with the tide. I set a drift down by the Cape May point. The drift was at about 3 knots, which is too fast. I put my drift sock out but that only slowed the drift down a little. I waited for the tide to go slack, so I was just dealing with the wind. With just the wind I had a good drift but never caught a thing all day. I was back in the slip by 2:00

On Saturday the weather was much better. My buddy Bill came down from Flemington. We left the dock at about 9:30AM heading for the Cape May reef. We had a west wind and the seas were calm, just some big rollers that were smooth. We were able to run out to the reef at over 20 knots. We set up on the reef by the rubble from the Ben Franklin Bridge. We didn't have much of a drift so I decided it would be a good time to try some buck tails. I picked up a short on our first drift. We kept resetting the same drift. We were only drifting about 1/3 of a mile before we would reset. I picked up a few more shorts while jigging with the buck tails. Once the drift picked up we gave up on the buck tails. Bill picked up a few shorts also. I think we ended up with 7 shorts and one sea robin, no keepers.

We started heading back to the marina by 2:30 and were probably in the slip by 3:00. Again it was a very smooth ride back in. We cleaned up the boat and Bill headed back home. I stayed for the night and left early Sunday morning.