Cape May Fishing Report July 9-10, 2010.
I headed down to Cape May on Thursday evening, since I had Friday off.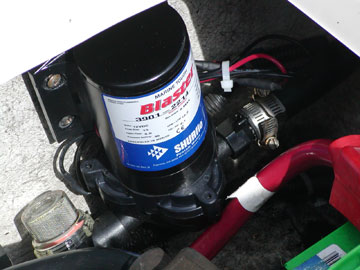 Friday I finished replacing the wash down water pump on my boat, then headed out for a few hours of fishing at around 11:00 AM. Most of the fleet was in the Delaware Bay about 3 miles from the canal entrance. I stopped there and picked up 3 shorts. I had a good drift going there. A little later I moved over between the 9-10 buoys, some of the Party Boats were there when I got there.
The Party boats left then this piece of crap came cruising by.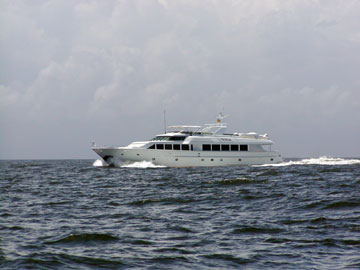 I stayed there until about 2:00 PM then headed back to the marina.
Friday evening we all headed over to Sterling Harbor in Wildwood for the Captains meeting for the Duke of Fluke. We paid our entrance fee and entered the Calcutta's for the Single Heaviest Fluke and the Stringer of Five Fluke. We left the meeting fairly early and headed over to CJ's for dinner. We made it an early night since we would be fishing in the tournament in the morning.
Saturday was the tournament day. The tournament started at 7:30 AM but we headed to the marina early to get everything ready. The weather was pretty nice, although they had been calling for rain. Dave S. headed up to register our crew at Sterling Harbor and wait for the shotgun start. We left the slip at about 7:45 and headed out towards the bay. Once we got in the bay we headed towards the rips, since it was high tide and it wouldn't be too rough. We ended up catching a few shorts and Randy caught a 19 inch keeper fairly early.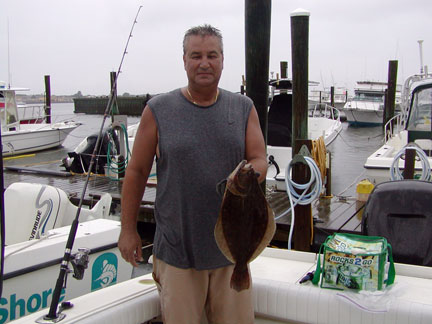 Things were looking promising at that point. The fog started to role in almost as soon as we got out there. I think the rain probably started at about 8:00 AM, and it rained all day. We decided to make a move back towards the 9-10 buoys, but we had to turn around because the fog was too thick. We tried a few other spots in the bay with an occasional short being picked up. Towards the end of the day we headed back into the harbor, and tried some drifts right in front of the marina. I picked up one short there. We called it a day by 3:30.
After we cleaned the boat, filleted the fish, and got ourselves into dry clothing, we headed back to Sterling Harbor for the awards dinner. We planned to skip out right after we ate. There was a lot less people at the party then there was last year. Last year there were 150 boats entered, this year I think it was 120. Once they started serving food we hopped in line and were some of the first to get our meals. We actually got to sit at a table this year. Just as we were finishing our meals and leaving it started to rain again. We made our way back to CJs, with some urgency on my part. We had a few drinks there, and then we headed back over to the Harbor View for our After the Catch special.