Cape May Fishing Report 06/04/2011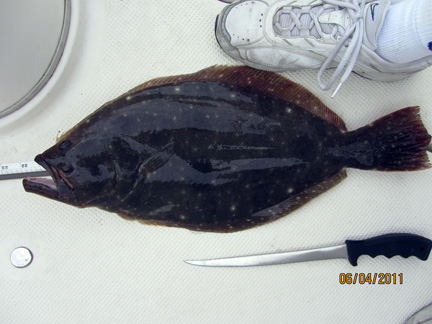 I finally caught a keeper sized Fluke on Saturday. All I caught were shorts last year. I caught this one east of Buoy 19 in the vast Delaware Bay. The water temperature was about 67.4 degrees. It was a beautiful day on the water. The keeper was almost 22 inches long, they need to be 18 inches to be legal this year. Besides the keeper I also caught 4 shorts, 2 skates and small shark. Capt. Dave from the Tiramisu went out early on Sunday morning and I thnk he got a keeper too, at least he sent me a text message with a pic of a nice flounder.
It's hard to believe but this is the 7th season that I've been fishing on Offshore Bites. I had the boat in the slip on May 7th this year. I went fishing for Stripers and Drum on May 21st but didn't have any luck that day. When I was fishing for stripers I was trolling with one of my new umbrella rigs I bought at the boat show back in February.