Cape May
Fishing Report 7/14/2012
Saturday was the Duke of Fluke Tournament; we did not enter this year. Since I wasn't in the tournament I was able to leave the slip before the shot gun start. I was out of the slip by 5:45AM on my way to Reef Site 11. I figured it would get pretty crowded out there once the tournament boats showed up. The run to Reef Site 11 is about 16 miles South East of the Cape May Inlet.
When I was about 8 miles out I noticed a helicopter flying really low. Then they came right by me with a photographer hanging out the one side taking pictures. I was running at about 18 knots at the time. They looped around me a few times, and I was able to make out the name of there website on the helicopters pontoon. The name of the outfit is Boatpix.com. I looked them up later in the evening, but they don't post the pictures, you have to pay them first then they send the pictures via mail. Pretty expensive to get the pictures, so I probably won't do it. But I'm writing about in the blog in case I change my mind, I'll know what date it was.
I arrived at Reef Site 11 at about 7:00AM there were only 2 other boats out there. Once the tournament boats started showing up there were over 50 boats out there. I hooked up immediately, sea bass. I probably caught at least 10 sea bass, 15 short flounder, and 2 keeper flounder. The keepers were 18 and 20 inches. The weather was perfect, it did rain for about 5 minutes but that was it. The water temperature was about 74 degrees.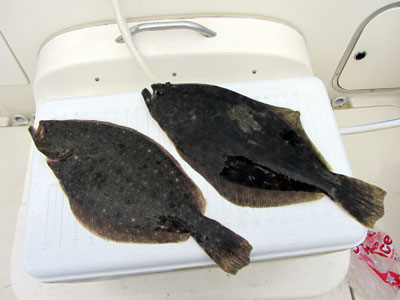 At one point I was right next to the boat named Stalker, he's been in the money in the last few Duke of Fluke tournaments. I heard they were in the money this year too, along with Duct Works and Adam Bomb, the usual suspects.
I fished until around 2:00 then headed back to the barn. The ride back was fantastic, very smooth with a South wind.
I got early and grabbed a coffee; this was the view I had while I drank my coffee. What were you looking at while you had breakfast this morning?
Sunrise
over
Cape May
Harbor
.