Cape May Fishing Report July 30th, 2011 Special Shark Week Edition

My buddy Bill flew down again. I picked him up at the Cape May airport and headed back to the Bree Zee Lee marina. We met my dock neighbor Ross at the dock and headed out of the slip at a little after 8:00 AM. It was just about high tide and it was very high tide because of the new moon. I headed back out to the Cape May reef, since I had caught two keepers there last week I was optimistic about our chances.
It was pretty slow at first. We caught a couple of shorts. Then I moved over to the spot where I had caught the 21 incher last week. There was another boat right on my numbers, so I pulled up pretty close to the other boat. We drifted for a few minutes then Bill hooked into a big one, he thought he was snagged at first but Ross told Bill you have a big fish on the line. Bill continued to real in. I could see from the rod action that he got a good head shake out of the fish. Bill was struggling to gain any line, and had to use short pumps to gain line. I grabbed the net and anxiously waited on the swim platform. As we started to see the color of the fish it looked like a giant flounder, but as it got closer we could see it wasn't. We were all stumped, was it a Bull Nose Ray? Was it a big Skate? As we got it to the surface Bill yelled over to the other boat to see if they could identify it. I could tell it was a shark but had never seen a shark like this before. We kept the shark on the surface for a while, and I took some pictures so we could identify it. It had a lot of teeth so I wasn't going to bring on board. Ross grabbed the leader and I cut the line down by the hook. The shark swam off. After that I grabbed the fish species book I have on board and looked it up. It was an
Angel Shark
. It was about 4 feet long, and the biggest fish Bill ever caught.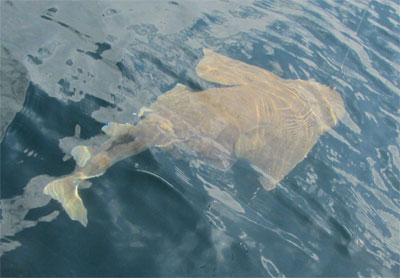 After that bit of excitement we reset the drift a few more times, but had no action. We decided to move towards the southern end of the reef. The boredom really picked up at the southern end. I think Ross caught a short at the southern end. We saw our other dock neighbor Al at the southern end, he didn't even catch a thing out there. Here's a picture of Al out on the water.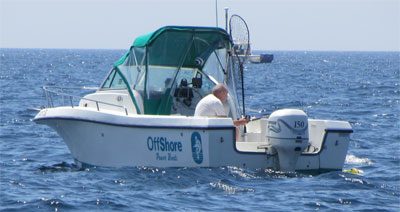 We pulled back into the marina at little after 2:00. The tide was extremely low but we got in with out getting stuck in the channel. We did turn up some mud though.
Later that evening I went to the Harbor View, they had a really good band playing named Northbound Train. They will be playing there again on Aug 13th.
On a completely different note Alan Jackson just shot a new music video at the Square Grouper tiki bar, which I frequent quite often when I'm down in Jupiter FL. Here's a link to the video.
Long Way To Go Video
.