Cape May Fishing Report June 18, 2011.

I picked some Bills (Sr. and Jr.) up from the Cape May airport a little before 8:00 AM and headed back to the Bree Zee Lee Marina. We left the slip at about 8:45 AM and headed up the bay towards Buoy 19. The same spot I went two weeks ago. The ride up the bay was fantastic, the seas were very calm and we were able to make good time getting there.
We had an incoming tide until about 11:30 with a W/SW breeze which made for a good drift. We started catching fish fairly earlier, Bill caught the first flounder but it was a short. Bill's Dad caught the next flounder which was a 19 inch keeper. That was the only keeper of the day which was caught with a white skirt, piece of squid, and a minnow. I didn't catch any flounder but I did catch some small blues and a weak fish. The Bill's caught a few more shorts, some sharks, and some skates.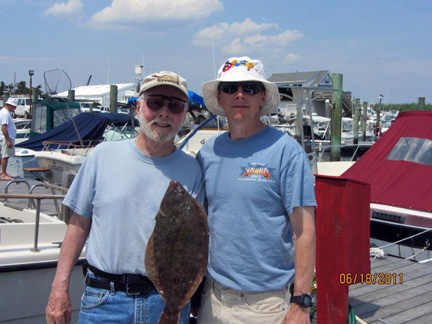 The ride back in, was even smoother then the ride out. We were back in the slip by 2:00. Bill cleaned the fish, and we washed up the boat. Then I drove them back to the airport and they flew home.
I spent the night in Cape May. Sunday morning I got up and pulled the wire for my
XM weather
antenna. I tested a few things, but I haven't put it back together yet. I want to make sure its working before I snake the wire through the radar arch.
Capt. Randy and I took the Just One More for a little ride up behind Wildwood. It was pretty much a shake down run, all went well.
After that we all went and had lunch at the
Harbor View
.