Cape May Fishing Report July 16th and 17th, 2011


Saturday we just went for a leisurely boat ride up the inter-coastal waterway up behind Wildwood. It was still fairly early as we were returning so I went out the Cape May inlet, to see if I could show my sister and brother-in-law some dolphins. As soon as we got past the jetty the dolphins were waiting right there. We watched them for a while then went along the Cape May beach. Around noon we went over to the Harbor View for some lunch. My sister and brother-in-law left after lunch.
Later in the evening Capt. Randy filled the boat with the Cape May refugees, and we went up towards Sunset Lake in hopes of watching the Christmas in July boat parade. We never saw the actual parade but we think we saw most of the decorated boats. A good time was had by all.
On Sunday my friend Bill flew down in his plane. I picked him up at the Cape May airport and drove back to the marina. We left the slip at about 7:45AM and headed out towards the Cape May Reef. The ride out was a little bumpy and moist but not too bad. The action was kind of slow at first with a pretty fast drift. Each of us lost 3 or 4 flounder rigs; we were getting a lot of snags. Once the tide stared changing, we moved over to another spot I had marked. The water temperature was about 71 degrees and the water very clean. We saw a big sea turtle out there. I think we caught about 8 throwback flounders, some Sea Robins and a Ling Cod. I took a picture of each flounder we caught even though they were all shorts. My new camera has geo-tagging, so I now have the GPS coordinates for every spot where we caught a fish. We packed it in at about noon and I let Capt Bill take the helm for the ride back to the barn.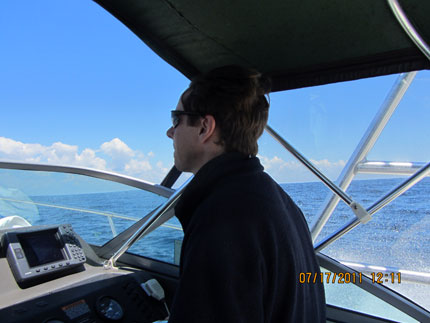 We got the boat cleaned up, and I dropped Bill off at the airport. I started driving home, and told him to call me when he landed. I wanted to see how far I was compare to him flying. He called me about an hour later to let me know he had just landed. I was still a little south of Hammonton by the Blue Berry fields.