Cape May Fishing Report July 23rd, 2011

After waiting around to find out what everyone's plans were I finally left the slip at 7:45AM. I was heading to the Cape May Reef. As I approached the end of the inlet there was a pretty thick fog. I only went a short distance and turned around. I fished in the Harbor for about a half hour while I waited for the fog to lift. At 8:45 I was heading back out the inlet. The fog had pushed out, but I still ran into some fog. I turned the radar on and kept going.
I headed back to the same general area I was last week. The first fish I caught was a 19 inch fluke. Then I didn't catch anything for a while, I did mange to break off about 10 different fluke rigs on various snags.
I caught this fluke, which was kind of unusual. His tail had been bitten off. So he was really short.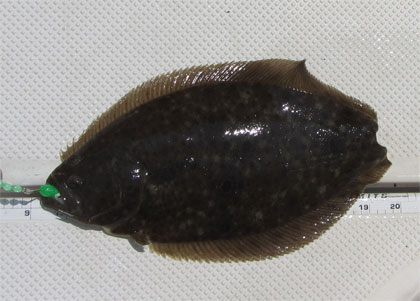 I picked up a few more shorts and sea robins. At about 1:00 things started to pick up. I caught a nice 21 inch fluke. I missed him with the net the first time, but scooped him up on the second try. I fished until about 2:20 then headed back to the marina. As I ran through the inlet you could feel the wall of heat. It was nice out on the reef, probably 10-15 degrees cooler out on the reef.
I filled the boat up with gas. I burned 18 gallons on this trip, which was about the same as last weeks trip to the Cape May reef. I put the boat back in the slip, and then posed for this picture.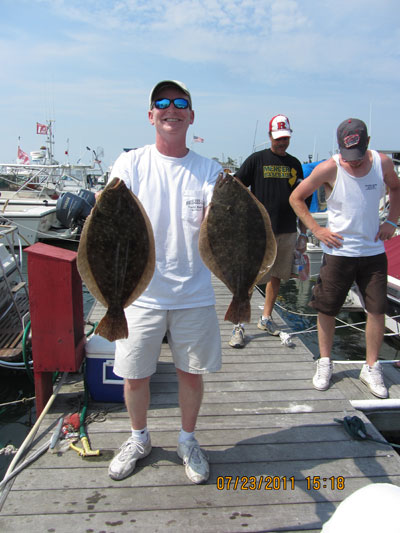 Capt. Randy picked up 2 keepers at the Wildwood reef. I cleaned my fish and put them ice. I decided to wait until early Sunday morning to clean the boat; it was just too hot to wash it on Saturday afternoon.