Finally Launched, Tiramisu Fishing Report 06-09-2012
Well I picked up Offshore Bites from
Heritage
Towers
on Saturday morning and hauled her over to the marina. I loaded the boat up, but I had to wait for some assistance to launch her.
Capt Day Glow Dave and Jim headed out fishing on Saturday morning. They went out into the vast
Delaware Bay,
the conditions were a bit rough at first so they just went to the Sixty Foot Slough. They had no action at the Slough and the seas started dying down, so they worked their way up the bay eventually heading toward the Miah Maul. They only caught 3 fish the entire day; an 18 inch keeper fluke, a short and a little shark.
Here are a few pictures as Dave and Jim as they were heading back into the marina.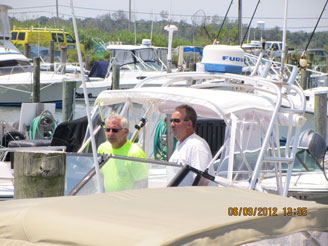 And here's a shot with Capt Day Glow and the Keeper. Rumor has it he blinded the fish at the surface with his bright shirt, and then Jim was able to easily net the fish.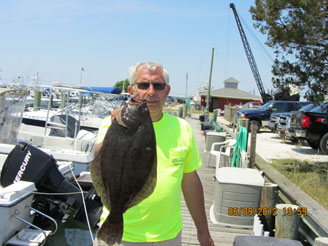 After they got back Capt Dave cleaned up his boat while Jim helped me launch Offshore Bites. I only gave it a small shake down run then headed for the slip. Here's the boat back in the slip.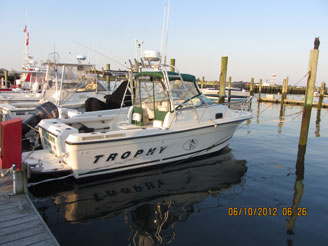 After getting the boat in the slip we ended up heading to the Rusty Nail for some drinks. I was happy to see the Kate Delany was back. She plays the acoustic guitar and sings, I think she's pretty talented. She had played at the Nail 2 years ago, but was not there last year. I can see myself heading to happy hours at the Nail more often this year. Here's a link to a You Tube video of her playing.
Kate Delany YouTube
.
After The Nail we headed over to the Harbor View for the evening.