Feb 3, 2007 The Hole Gets Bigger at A.C. Boat Show


We almost boycotted the Atlantic City Boat show this year because Twiggy the water skiing squirrel was not booked. You can see million dollar yachts any day, but a water skiing squirrel, now that's something. He better be back next year! We did meet up with Dave M., Chuck and Buddy at the show for a little bit. But I was on a mission so we didn't chat all the much. I think they left the show early, probably because of Twiggy's absence.
Over the winter I have been researching which multi-function unit would work best for my boat. We went to the N.Y. Boat Show in January and talked to the representatives from Garmin and Raymarine. I was interested in getting the satellite weather function with the unit. Garmin offers XM Weather and Raymarine offers Sirius weather. The weather maps overlay your chart plotter. One of the main features of the weather I was interested in was the Sea Surface Temperature overlay. I wanted this for the few days that my little boat can make it offshore, so I can locate the temperature breaks.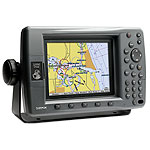 To make a long story short I ended up going with the
Garmin 3206
Multi-function kit. The kit comes with the head unit, weather unit, GPS antenna, weather antenna, network adapter and a digital sounder. Plus I bought a new transducer, a heading sensor and a radar dish. The heading sensor allows me to overlay the radar on the chart plotter, or I can split the screen into up to 4 different views. Everything is sitting in my basement just waiting to be installed, except the radar dish which is on back order. Hopefully that will be in by sometime in April, but I'm not holding my breath.


I also bought a Personal Locator Beacon (PLB) which is similar to an EPIRB. If the boat goes down you set this thing off and it will let the coast guard know your exact location. I also purchased 2 self inflating life vests. I bought the life vests primarily for when we are trolling and there are only two people on board. If you looking at where the boats going you not always looking at the guy attending to the poles.

Hopefully I'll pick the boat up from Highway Marine some time around Mid-March. I'll need some time to install all these fancy new electronics, plus bottom paint, wax, etc…