Cape May Fishing Report Aug 30, 2008

My buddy Mark drove down from the Harrisburg area early Saturday morning and we headed out of the slip around 4:30 AM. The plan was to get out early and do some trolling. It was a little foggy when we left, but the seas were very calm with hardly any wind. The boat was running fine as we made our way slowly out of the inlet only doing about 6 knots.

We cleared the inlet and set the chart plotter on a course for the East Lump. We were still moving pretty slow because it was dark and the fog was building up. We only made it about a mile from the inlet and the motor suddenly stopped. I tried to re-fire the motor but it wouldn't start. The lights and the electronics were all still working but the motor wouldn't turn over. After trying a few things I finally had to call Tow Boat US, luckily I'm a member with unlimited towing. Benny is the Capt of the Tow Boat US vessel, and his slip is just a few down from mine. I felt bad calling him because I knew he was out all night towing in a big sail boat, I saw him when he was getting in at around 4:00 AM.
We threw the anchor over and waited for Benny, he was there fairly soon. Then he hooked us up and towed us back in.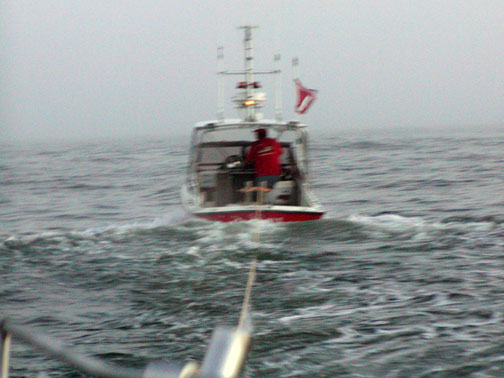 The guys in the fuel shack had heard of my problems, and let me know the Jeff the mechanic was inside the shop, and this was at about 7:00 AM. I told him what happened and he came down to the boat by 8:00. He must have had a good idea what it was because he had a spark plug wrench with him. He pulled some plugs on the left, they looked ok. Then some on the right and there was water in the cylinder heads. Once he pulled the plugs the engine was able to crank. The water gets into the cylinders through exhaust manifolds and risers. Raw water is used to cool the exhaust. When they ware out, you have problems. Jeff gave me an estimate to fix the problem including a set of new risers and manifolds; it should be in the $1500 range.
Hopefully the boat will be fixed by next Thursday. Here's a link to Boat US article on the problem.
http://www.boatus.com/seaworthy/swbtob.asp