Sept 8th, 2007 – That's All Folks

Since I found out last week I will probably doing a bit of traveling for work during the next few months I decided to pull the boat on Saturday. Friday evening I hooked up the trailer and drove down to Cape May. I dumped the trailer at the Bree Zee Lee, and headed over to the Harbor View for some dinner. There were a lot of bikers in town for Wildwoods Roar at the Shore weekend. After dinner we all sat around on "Just One More" and had a few beers.

Saturday morning Jim and I took "Offshore Bites" out for the last trip of the season. The wind was blowing from the South West, so it made the ride out and in from to the Cape May reef a little slow. The drift was pretty fast out there and that was with the drift sock out and we were using 10-12 ounce weights. The water temperature was around 72 degrees and the water was pretty dirty. I managed to pick up a 19 inch keeper; the last of the season since summer flounder season closes on Sept 10th in NJ.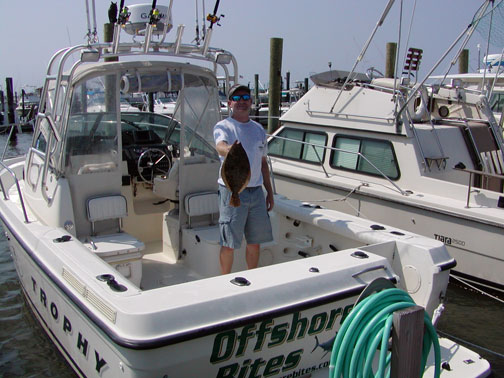 We got back to the barn and we cleaned up the boat and filleted the fish. Then we headed over to the Harbor View for a while. High Tide was around 6:00 PM so I headed back over to the boat and hooked the trailer up. We backed the trailer down the ramp and then pulled the lines on the boat and drove it right on to the trailer.

Sunday morning I got up early and hauled the boat home. It's sitting in the driveway now. I broke out the power washer and knocked most of the growth off.

And so ends another fishing season aboard "Offshore Bites"