Cape May
Fishing Report 6/23/2012
My return flight from
Dallas
got into Philly at about 1:30 on Friday. I hopped in my car at the Long Term parking lot and headed straight for
Cape May
. I arrived in
Cape May
at just about 4:00 and just as I arrived the skies opened up and there was a lot of thunder and lightning. So we ended up heading over to the Harbor View for some Sushi and cocktails.
Saturday the weather was beautiful. I wasn't sure where I was going to fish; it was a toss up between the CM Reef and Reef Site 11. I met Capt Tommy at the Wawa, and the bait shop, and told him I was thinking Reef Site 11. As I was pulling out of the slip they pulled out into the harbor at the same time. I followed them out to Reef Site 11. We were running over 20 knots so I was happy.
There is a lot of good structure at Reef Site 11. It really shows up on the sonar. I had a short flounder in the boat within 10 minutes of my arrival. I kept doing short drifts, like about ¼ mile long drifts so I would stay on the structure. A charter boat named UnReel was beside me, I saw them catch at least 6 keepers. I was just picking up shorts.
Here's a shot of Tommy and friends at Reef Site 11.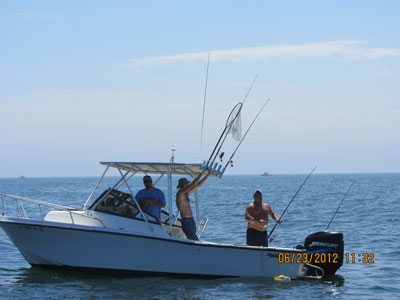 After a while Capt. Tommy called me on the radio and said he was getting a lot of action a little further south, so I headed that way. I continued to pick through shorts and sea bass. I lost a lot of rigs out there, probably 10 or more. That's to be expected at Reef Site 11. Finally around 1:00 I caught a 19 ½ inch keeper. I almost lost it at the boat, I missed with the net the first time and the little stinger hook on my jig got caught in the net. I was able to get the fish in, and put in the box. I kept fishing until about 1:45 then started packing up for the ride back.
The ride back was just as smooth, as the ride out. Here's a little video I shot while looking back at the Stern, you can see the sea conditions were pretty nice.
When I got back to the marina I filled the boat with gas. It took $90 bucks to fill the tank, and it was full when I left in the morning. So the flounder I'm going to eat to tonight better be damn tasty.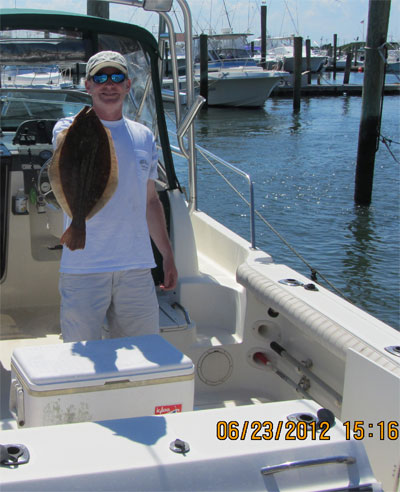 I only gave the boat a quick rinse down Saturday afternoon. A few of us ended up having some beers and shooting the breeze at the Bree Zee Lee.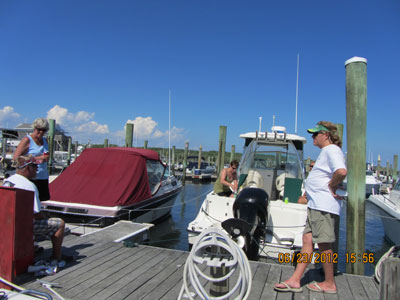 Saturday night we were back at the Harbor View to see Northbound Train.