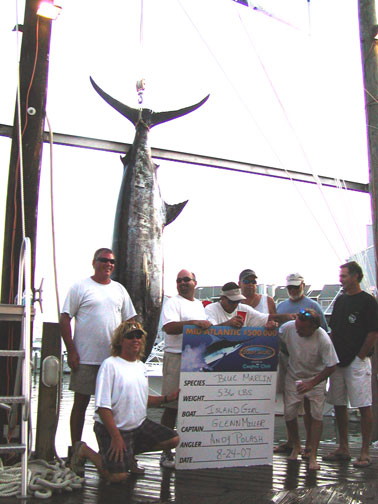 Aug 24-25 2007 – Congratulations Island Girl
I took Friday off and got down to Cape May by noon. The Mid-Atlantic $500,000 tournament had been running since Monday, and Friday was the last day of competition.
On Weds our friends on the Island Girl weighed in a 524 lb Blue Marlin and that was the only one weighed in up until Friday. I called Capt. Andy's cell phone and Sonya answered. I asked her if she could let me know when Island Girl would be hitting the scales. Five minutes later she called me back, Capt. Andy had called on the Satellite phone to let her know they had another Blue Marlin on board and it was about the same size as the first. We expected them to pull up to the scales around 6:30 but they were coming in a little earlier. Luckily I had my VHF radio on and heard them coming in. I went to get in the car and drive up to the Canyon Club, only to discover my car battery was dead. Luckily I was able to get a jump start and get up there in time.
Another boat came in with a Blue Marlin, before Island Girl came in. The other Blue Marlin weighed in at a measly 414 lbs. When they pulled the Marlin out of Island Girl and weighed it in, it was a whopping 536 lbs. putting the crew of the Island Girl in first and second place in the Blue Marlin category. With the prize money and Calcutta bets the Island Girl won a staggering $327,000. Congratulations.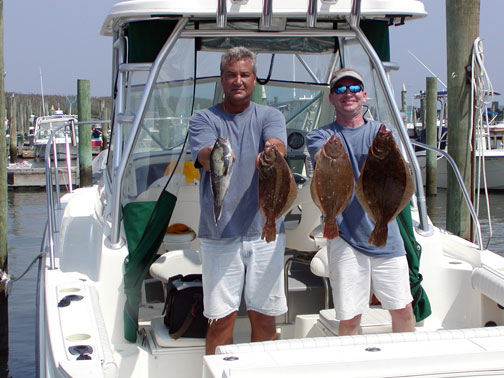 To add to the excitement of Friday I headed out with Capt. Randy on "Just One More" back out to the Cape May Reef on Saturday. We ended up with 3 keeper fluke, and a nice sea bass. We also had plenty of short throwbacks. Capt Dave and Chuck had been at the reef also and had 1 keeper.
On Saturday evening we all went to the Harbor View to celebrate our big catches.