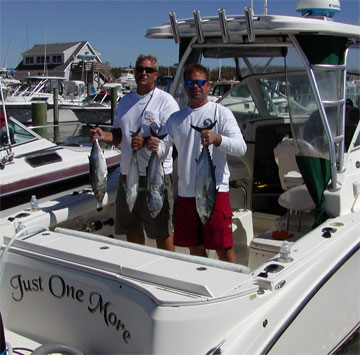 Cape May Fishing Report September 11, 2010.

We headed out at about 5:30 AM on the "Just One More" heading towards the infamous East Lump. As the name implies the East Lump is about 20 miles east of Cape May. The wind was blowing from the North at about 10-15 knots, although the forecast was supposed to be nicer. The ride out was a little bumpy and could have been a little damp but we had the side curtain down on the port side.

The water temperature at the lump was about 72 degrees. I think we started trolling by around 7:00 and were on the way back in by 10:00. Now you're probably thinking that doesn't sound like a lot of time, but we had 5 fish in the box by then and the seas were getting rougher by the minute, and one of the crew was chunking even though we were on the troll. We ended up with 4 Little Tuney and 1 Bonito. The fish hit on everything we had out there, cedar plugs, feathers and ballyhoo.


We were back in the slip by noon. We then cleaned to boat and the fish. I stopped in the Harbor View after I got cleaned up, but it was Roar at the Shore weekend and the place was packed with bikers. I stopped back in there later in the evening and half the bar was closed because they had a wedding using half the bar. I went over to the closed part of the bar and I even scored a piece of wedding cake.