Lots of Rain in Cape May Report 8/27 2012
I worked around the house this weekend, and didn't make it down to the boat. On Saturday night I fell asleep and the TV was still on. I woke up in the middle of the night when I heard the Emergency Broadcast Signal, informing viewers that there was a flash flood warning in effect for Southern Cape May County. It wasn't even raining at my house. I shut the TV off and drifted back to sleep.
On Sunday morning I called Capt. Randy to see how bad the storm was, he said it was bad. Capt. Dave had reported that a boat a few slips up from him had sunk in the slip.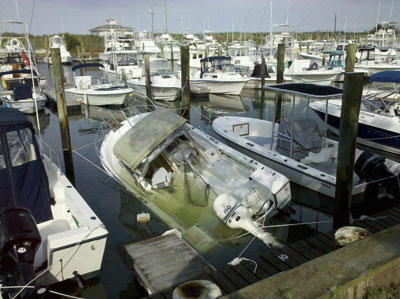 I checked the news and
Cape May
had over 6 inches of rain overnight, and Wildwood had its usual flooding. Capt. Randy checked on our boats and everything was fine, in fact they are probably very clean now.