Cape May Fishing Report July 25, 2009 – Bree Zee Lee Fluke Tournament

I left home Friday afternoon a little early so I could get down to the marina for the Captains meeting for the Bree Zee Lee Fluke Tournament. On my way down I decided to call Capt. Randy and see what his plans were for the weekend. He answered his cell phone and told me that the Envoy had broken down, and he was stuck in Hammonton. I made a U-Turn and went back to pick them up. Luckily I was driving my stretch Nissan Versa and we had plenty of room for all their stuff. The Envoy was towed to the local GMC dealer down the street. I then continued on my way to Cape May with my new passengers Randy, Ruth and Sprocket (the dog).

I dropped them off at the camper and headed over to the Captains Meeting, which was at 7:00 PM on Friday. I wasn't sure if I was going to enter the tournament because I didn't have a crew, but I entered anyhow. Then I cruised back over to the camper and we went to CJ's for diner. The swordfish was pretty good. After diner we headed back to the camp ground, and then I drove back to the boat with Randy and let him take the car. I was going to be fishing most of the day anyhow and wouldn't need it.

For the tournament you could have your lines in the water at 6:00 AM, and you could have a maximum of 5 lines in the water. I ended up leaving the marina around 5:30 AM and headed for the Old Grounds by myself. On the way out, there was a south wind and some large swells but nothing too bad. I had my two lines in the water at about 7:00 AM. The water temperature was about 73 degrees at the old ground, and the water was pretty clean.

There wasn't much happening for the first couple of hours. I did see some bluefish jump out of the water just a few feet from the boat. Then a few minutes later I found out why they were nervous; I saw a sharks dorsal fin and tail cutting through the surface. It was probably about a 5 foot shark, but I couldn't tell what kind.

From 9-11 AM it was pretty much not stop action. I was working two rods and it seemed I would reel one up, and then have to reel in the other. At one point I had hits on both rods at the same time, I decided to reel in the one that felt heavier. Unfortunately all the flounder I caught were short. I also caught a lot of Sea Bass too. I only needed 4 or 5 ounces to hold the bottom at that point, but had to keep adding more weight as the wind picked up. I had an excellent drift for most of the day.

I moved a little further south after the action slowed down and continued to pick through shorts and Sea Bass. As the wind picked up I kept telling myself I should head in closer to Cape May and try McCries Shoal, but I kept catching another fish each time I was getting ready to leave. I took off for McCries Shoal at about 1:00 PM. I was the only one fishing at McCries Shoal, and didn't even get a hit while I was there. I left McCries at about 2:30 and was back in my slip by around 3:00 PM. Weigh in was from 3-4. Unfortunately I didn't have anything to weigh in.

I checked the trip meter on my chart plotter before I left the slip and after I returned. My round trip total for the day was 55 miles, and I burned about 35.4 gallons of fuel, which gives me an average of about 1.55 miles per gallon. I got an average of about 1.65 mpg last year while trolling but the sea conditions where better on the trolling trip.

In all I think there were 25 boats registered for the tournament. The entry fee was $100 and the Calcutta for the stringer of the two heaviest fish was $50, and I think everyone went in on the Calcutta. So the Calcutta probably paid out about $1250. I'm not sure how they broke down the percentages for the 1st, 2nd, and 3rd heaviest fish. I do know I didn't have any of them. After the weigh in we all sat around at the tables up by the fuel dock and enjoyed our gourmet hot dogs and had a few beers.

Here's a photo of the leader board after everyone weighed in. Looks like the "Stanely Rose" won the Calcutta with a two fish total of 11.62 lbs, and Duchess came in 1st place.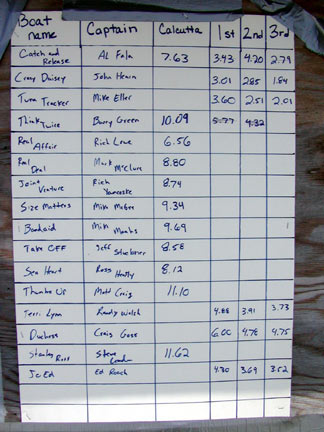 Here's a shot of me holding up my parting gift I got just for playing the game.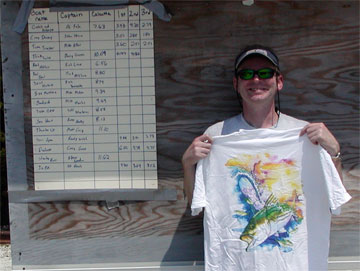 I ended up spending the night in the Outback because I needed internet access in order to do some work at 1:30 in the morning. By the way Randy and Ruth's camper is an Outback, I wasn't in Australia. I got up and went out to the Picnic Pavilion because I can get a better internet signal out there. I was out there until about 2:45 AM. I may need to file for workman's compensation since I was being eaten alive by skeeters.

Sunday we got up and washed the boats, then headed to the Harbor View for lunch. After that we packed up and left for home.