Dolphin
Cape
May Report 9/1 2012
Being that it was Labor Day Weekend I headed down to
Cape May
Friday afternoon. I stayed at the Harbor View longer then I should have on Friday night. Saturday morning I wasn't sure what to do, NOAA was predicting North Winds 10-15, after a while I purchased some bait and headed out of the slip by 8:00. I started off heading towards Reef Site 11, which is a 16 mile run. The sea conditions weren't too bad, but not great either, so I decided to go over to the
Cape May
point. I only caught 1 short flounder over there and a few other junk fish. Then it started to rain. I packed up and started heading towards the inlet. After a short run I was out of the rain.
I noticed the Whale and Dolphin Watching boat as I was heading towards the inlet, so I decided to slow down and see if there were Dolphins in the area. There were probably about 20 Dolphins around. We see Dolphins quite often when we head out fishing. Some of them were putting on a good show, jumping completely out of the water. It was pretty entertaining, especially compared to the pathetic fishing I had been doing.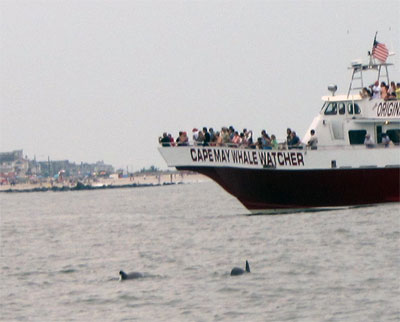 As we were watching the Dolphins I heard a loud roar heading towards us, and saw a pretty big rooster tail too. This is what zipped flying by within a few seconds; he must have been doing well over 50 knots.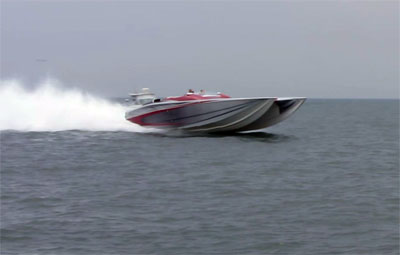 I ended up doing a little more fishing, but had no luck. I should have gone out to Reef Site 11.