Cape May Fishing Report July 26th, 2008

We left the slip at around 7:00 AM and headed for the number 9 and 10 buoys because the water was a little warmer over in that part of the bay. We were heading right into the wind on the way out, but it wasn't too bad. We had the lines in the water by 8:00. The water temperature was around 68-69 degrees. Low Tide was at 9:22. We caught a few skates, then at around 9:12AM as I was untangling Jim's line from mine I finally caught my first keeper flounder of the summer. It was a 19 inches and weighed in at 2 lbs 11 oz, and I named him dinner.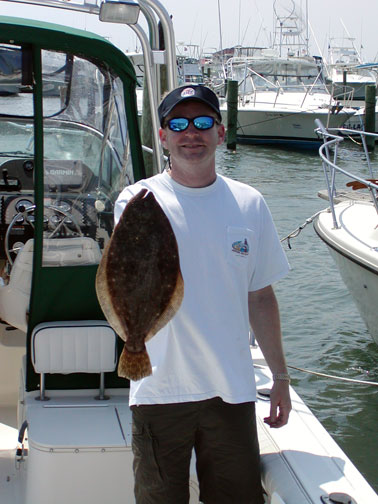 Once the incoming tide got going the drift really started to pick up, because the wind and tide were in the same direction. We put the drift sock out but it didn't slow us down all that much. Jim caught a little snapper blue, and before the drift picked up we had quite a few skates.
Deck Boss Jim took the helm for the ride back to the Yacht Club, and backed "Offshore Bites" into the slip for the first time.The sad thing is… there is only 5 weeks left in the summer flounder season. Hopefully the water warms up and some fish move in.